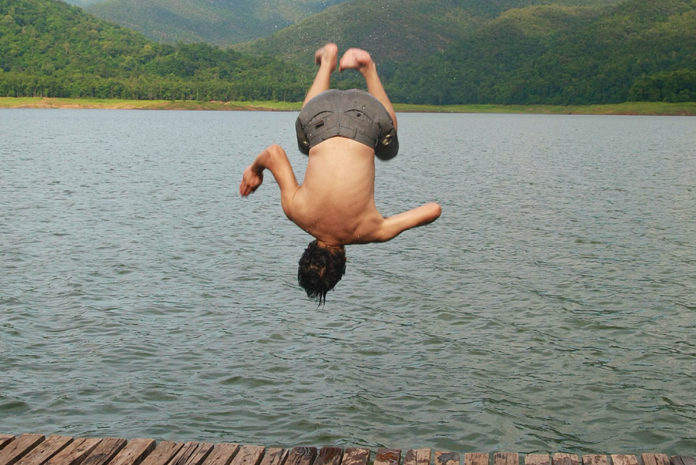 Praise God! We have a date scheduled for my baptism!
As an infant, I was baptized into the Catholic Church. Since coming back around to a deeper walk in my Christian faith, it has been on my heart to consciously accept baptism as a new man in Christ. Numerous attempts to be baptized through my non-denominational church have stalled, not through any lack of readiness on my part, but through a lack of administration on theirs. Since losing their baptismal pastor last year, they have been pushing the baptismal responsibility back and forth between departments. They even cancelled their Easter baptism this year with a commitment to conduct baptisms "sometime late spring, early summer."
What?
When I asked my Baptist pastor about this and he said it was because they don't view baptism as membership into their church. My brother in contemplative prayer understands this and confirms that baptism is not to be church-specific. He says the old man dies upon immersion and is born new in Jesus Christ into the Body of Christ upon emerging; not into a specific church family. Then he made a joke about taking me down to the river and taking care of it.
So, after more consideration, I'm taking him up on that offer. It seems fairly appropriate, actually, when I think about our biblical example. If Christ is our example to follow, I will follow Him in this too.
Pastor Doug of Fellowship of the Martyrs Church of Liberty, Missouri, points out the connection between water baptism and Passover. This inspired me to look into the dates for Passover to possibly align with that. Well, in the year 2016, Passover takes begins Friday evening, April 22, and runs until the evening of Saturday, April 30.
So, April 30th it will be!
More soon!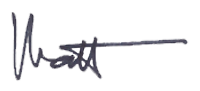 P.S. Enjoy the following article which more clearly states the connection between baptism and Passover.
---
Baptism & Passover: Two Pictures of Our Need for Christ
by Jerry Laws, December 2001
From time to time my thoughts keep coming back to the process of salvation. The more I think about it, the broader and deeper it gets. In this ever-expanding process I'm being made more keenly aware that there is "nothing but Christ!" What I mean by this is that in the Father's purity, He only views His beloved Son.
And by the Father's grace (ability) we believers have been placed or positioned "in Christ" (1Cor 1:30) whether we are actively aware of it or not.
Salvation is a process of delivering us from the world, Satan, and self. It's a process of the old man's death, and the new creature in Christ growing into a mature thinking and acting individual, just as our Messiah was and is (Eph 4:13). The apostle Paul's determined goal for all those whom he ministered to, was given for our reference in Galatians 4:19, "My children, with whom I am again in labor until Christ is formed in you." This central theme of the reformation process is summarized in 2Cor 3:18, and is specifically emphasized in 2Cor 4:11; "For we who live are constantly being delivered over to death for Jesus' sake, that the life of Jesus also may be manifested in our mortal flesh."
Now the principle of life out of death is pictured both in our public baptism and the Christian Passover service.
Let us first briefly review the need for a Savior to deliver us from ourselves and the evil that exists in this world. Adam and Eve's wrong choice resulted in mankind's separation from God, pictured by removing them from the Garden and thereby barring them from the Tree of Life. In order for reconciliation to come about, God the Father had to first propose deliverance—salvation. Secondly, the beloved Son had to purchase it. And finally, God's Holy Spirit has to apply it. The first two steps have been accomplished, and the third is in active process.
There is no amount of good works we can do to earn salvation. Our part is not production, but reception of our life "in Christ Jesus", who is our salvation. However, our efforts are involved here as this entails Bible based fact-finding, and explicit faith in Him and His purpose for us "in Christ". It also involves our patient trust as He takes us through the necessary purification process involved (Tit 2:11–14).
As God's calling continues to go out, the people have a choice to make, not unlike Adam and Eve's choice. Many factors can affect the response: love of the world and the things that are in it; strong self-will; rebellious natures; procrastination, etc. (I remember a friend telling me that it took him 18 years from his calling to make a firm commitment before being baptized. Praise God, he did make it.)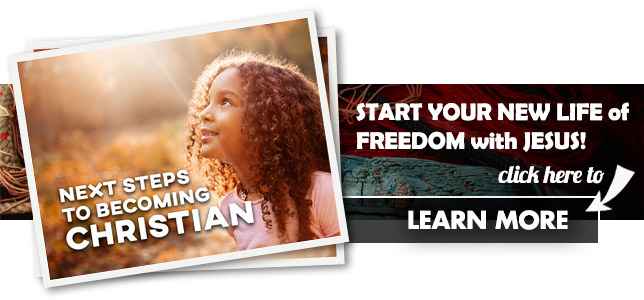 Even after we have made the correct choice of Life, I don't think most have a very deep understanding of the life-out-of-death process that we have entered into with our Lord and Savior Jesus Christ. This usually comes later on with our child-training.
Submitting to water baptism is to be a testimony, or giving evidence that we have accepted the facts of Scripture, and acknowledge our need for a Savior in order to be reconciled back to God. We therefore reckon, or count ourselves to have been placed in union with Jesus Christ, by the Spirit (Rom 6:1–11). Baptism need be done only one time in one's life—at an age when one is old enough for a life-long adult commitment. It also testifies to our position; we have died to—out of the power of—the old life and are alive in the newness of life.
Our "position" is not a place, but is a person with a personality. Sometimes we have difficulty grasping this concept. Making a comparison with our human birth might help here. When we were born into this world, we automatically inherited the characteristics of our forefathers clear back to the beginning of time. We inherited a deep self-centered nature that is prone to sin. We didn't have any choice in the matter. We were therefore "positioned" with Adam's nature—our flesh—which is simply not compatible with God's nature (Rom 3:23; 7:18; 8:7).
When we are immersed into the water, our old man is as a dead man, crucified and its power over us is broken. As we come out of the water, we have entered into the newness of life. This is our new position, "in Christ" and the old man has no power over the new man in Christ. Remember when Jesus was nailed up to the stake, and He was up there crucified for a period of time before He finally died. This is where our old man has been placed—up on the stake with Jesus, crucified, power broken, but not yet annihilated.
There is an allegory which has been given to me by another, and it might help clarify this situation: there is a ship on a voyage and the captain has been tried and found guilty of a capital offense, and as such has been put below deck in the ship's jail. The new captain of our ship gives good guidance and steers a true course along safe harbors. Meanwhile the old captain continues to loudly claim he is the rightful leader of the ship, and the crew are so used to listening to him that they still sometimes do—which causes a lot of problems for the ship. Explanation: We are the ship on our voyage of life. Our old man is the old captain who has been put in chains, and his power over us is broken at our baptism. He will be permanently removed from our ship when the ship reaches the final port, but he still causes a lot of problems in the meantime. The new captain of our ship is, of course, Jesus Christ.
This brings us to the Christian Passover/Lord's Supper connection and the reason why we need to partake of it as an annual memorial, rather than a one-time experience such as with our baptism.
When we come up out of the water we have entered into a brand new life, separate from the old. It is the life of Christ—He is our life (Col 3:4). We have been positioned in Him by the Father. However, we come into Jesus' life as newborn spiritual babes, with God's goal set before us to grow in grace and knowledge until we reach the full maturity, just as the beloved Son of God is mature (2 Pet 3:18; Eph 4:13). This ultimately leads to intimacy and oneness with our God.
The Passover service sets forth our experience in our voyage of life. It is our continual condition, of growing to full maturity. It is not the old man improving, or getting better—for he has been crucified—but our human condition is in the process of purification. We, individually, are being transformed (conformed) to His death in order that His life may be manifested in our mortal flesh.
Even though the ultimate goal of Jesus' death was to bring us into Life (Rom 5:10), we can never bypass the importance of His beaten body and shed blood. We need to remember—proclaim—His death annually, on a continual basis to help us focus on our need for Him. We acknowledge that our condition in this journey of life is a needy one, because it is all too easy to take our eyes off the new Captain of our vessel and let the old man take control of the helm once again. Remember what the beloved Son of God experienced on our behalf. "For as often as you eat this bread and drink this cup, you proclaim the Lord's death until He comes" (1Cor 11:26).
Maybe this will help illuminate what Paul said in Galatians 2:20; "I have been crucified with Christ, and it is no longer I who live, but Christ lives in me; and the life which I now live in the flesh, I live by faith in the Son of God, who loved me, and delivered Himself up for me."
Permission is granted to reproduce any article in its entirety.
(Laws, J. Servants' News. December 2001. Retrieved from http://www.servantsnews.com/sn0111/baptism.htm.)
---
Biblical Quotes Regarding Baptism (KJV)
Acts 2:38 – Then Peter said unto them, Repent, and be baptized every one of you in the name of Jesus Christ for the remission of sins, and ye shall receive the gift of the Holy Ghost.
John 3:5 – Jesus answered, Verily, verily, I say unto thee, Except a man be born of water and [of] the Spirit, he cannot enter into the kingdom of God.
Acts 22:16 – And now why tarriest thou? arise, and be baptized, and wash away thy sins, calling on the name of the Lord.
Mark 16:16 – He that believeth and is baptized shall be saved; but he that believeth not shall be damned.
1 Peter 3:21 – The like figure whereunto [even] baptism doth also now save us (not the putting away of the filth of the flesh, but the answer of a good conscience toward God,) by the resurrection of Jesus Christ:
Matthew 28:19 – Go ye therefore, and teach all nations, baptizing them in the name of the Father, and of the Son, and of the Holy Ghost:
Colossians 2:12-13 – Buried with him in baptism, wherein also ye are risen with [him] through the faith of the operation of God, who hath raised him from the dead.
Ephesians 4:5 – One Lord, one faith, one baptism,
Acts 2:41 – Then they that gladly received his word were baptized: and the same day there were added [unto them] about three thousand souls.
Romans 6:3-4 – Know ye not, that so many of us as were baptized into Jesus Christ were baptized into his death? Therefore we are buried with him by baptism into death: that like as Christ was raised up from the dead by the glory of the Father, even so we also should walk in newness of life.
Galatians 3:27 – For as many of you as have been baptized into Christ have put on Christ.
Matthew 3:16 – And Jesus, when he was baptized, went up straightway out of the water: and, lo, the heavens were opened unto him, and he saw the Spirit of God descending like a dove, and lighting upon him:
Matthew 3:11 – I indeed baptize you with water unto repentance: but he that cometh after me is mightier than I, whose shoes I am not worthy to bear: he shall baptize you with the Holy Ghost, and [with] fire:
Acts 8:36-38 – And as they went on their way, they came unto a certain water: and the eunuch said, See, here is water; what doth hinder me to be baptized? And Philip said, If thou believest with all thine heart, thou mayest. And he answered and said, I believe that Jesus Christ is the Son of God. And he commanded the chariot to stand still: and they went down both into the water, both Philip and the eunuch; and he baptized him.
Colossians 2:12 – Buried with him in baptism, wherein also ye are risen with [him] through the faith of the operation of God, who hath raised him from the dead.