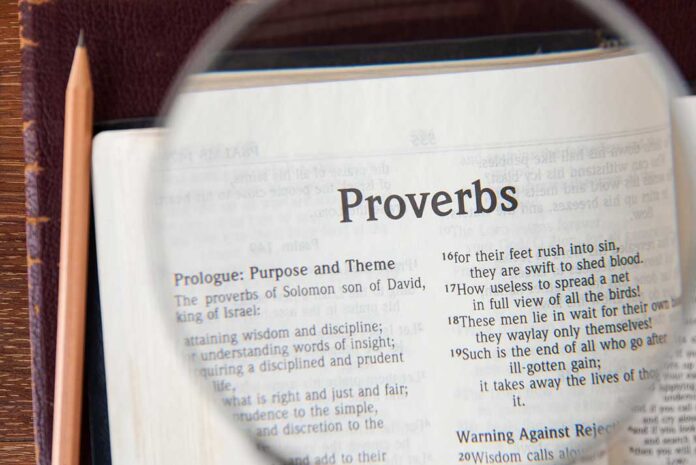 "1 My son, do not forget my teaching [torah – direction, instruction], but let your heart keep my commandments; 2 For length of days and years of life and peace they will add to you. 3 Do not let kindness [lovingkindness] and truth [faithfulness] leave you; bind them around your neck, write them on the tablet of your heart. 4 So you will find favor and good repute in the sight of God and man. 5 Trust in the Lord with all your heart and do not lean on your own understanding. 6 In all your ways acknowledge Him, and He will make your paths straight. 7 Do not be wise in your own eyes; fear the Lord and turn away from evil. 8 It will be healing to your body and refreshment to your bones. 9 Honor the Lord from your wealth and from the first of all your produce; 10 So your barns will be filled with plenty and your vats will overflow with new wine. 11 My son, do not reject the discipline of the Lord or loathe His reproof, 12 For whom the Lord loves He reproves, even as a father corrects the son in whom he delights." (Proverbs 3:1-12)
If you were to ask ten believers what it takes to live the spiritual life, you would most likely get ten different answers. To find the answer to this question, a close look at the Scriptures gives insight into those dynamics. One passage that provides some perspective is found in the first few verses in Proverbs 3. God's gift of wisdom to Solomon is on display in much of the book of Proverbs.
Divine Instruction
So much of Proverbs focuses on the importance of wisdom and understanding and this chapter is no different. But before it gets there, it has some important ground to cover. In verses 1-2, the key to length of days (quality) and years of life (quantity) is the way one treats God's laws, His instruction, Bible doctrine. The Hebrew word torah is the means by which one can reach a goal or ideal. Solomon says that it is a matter of the heart. According to Jesus, the heart is where your treasure is, where values are determined (Matthew 6:21). When one's priorities are governed by God's priorities (torah), great things take place. David found out that when his heart was filled with God's directions, he was delighting to do His will (Psalm 40:8). In Psalm 119:11, "Your word I have treasured in my heart, that I may not sin against You."
Lovingkindness and Truth
Verses 3-4 address the benefits of wearing lovingkindness (hesed) and truth, faithfulness. These benefits are represented by favor or acceptance or grace (unmerited favor) as well as a good reputation and the Scripture says these are "in the sight of God and man". It means that both God and man will recognize the believer as having a good understanding. So how does this take place? Verse 3 says that we should bind them around our neck, to be viewed by others like a necklace and write them on our hearts, making them our highest priorities. Hesed, many times translated lovingkindness or mercy, can also mean loyalty. So this verse speaks to the believer being loyal and faithful to God and being kind and truthful to men. We see these 2 aspects of the matter in the following verses:
"By lovingkindness and truth iniquity is atoned for, and by the fear of the Lord one keeps away from evil." (Proverbs 16:6)
"Listen to the word of the Lord, O sons of Israel, for the Lord has a case against the inhabitants of the land, because there is no faithfulness or kindness or knowledge of God in the land." (Hosea 4:1)
Trust in the Lord
Looking at verses 5-6, the Hebrew word for trust is batah and Zodhiates says it means trust or confidence and "expresses the feeling of safety and security that is felt when one can rely on someone or something else". The middle verse in the Bible is Psalm 118:8 and it says, "It is better to take refuge in the Lord than to trust in man." It is no coincidence that in the very middle of the Bible is a warning to trust in anyone other than God, even oneself. Putting one's trust completely on God is to deny any real trust in self. Psalm 37:5 says, "Commit your way to the Lord, trust also in Him, and He will do it". Then there is Proverbs 26:12, "Do you see a man wise in his own eyes? There is more hope for a fool than for him". The promise in Proverbs 3:6 is that God will make his paths straight. It means God removes the obstacles, making a smooth path or way of life, or perhaps better, bringing one to the appointed goal.
Fear of the Lord
Now we observe verses 7-8, which emphasizes "the fear of the Lord". This Hebrew word for fear is yare and it has the sense of reverence and respect or awe. When the believer fears the Lord, he recognizes that, "Behold, the fear of the Lord, that is wisdom; and to depart from evil is understanding" (Job 28:28). When one puts God in first place in his life (Colossians 1:18), the promise is that the believer will experience physical health benefits. In 3 John 2, John writes, "Beloved, I pray that in all respects you may prosper and be in good health, just as your soul prospers." John recognizes the relationship between spiritual health and physical health. In his search for meaning in life in Ecclesiastes 12:13, Solomon came to the conclusion, "fear God and keep His commandments, because this applies to every person."
Giving
In verses 9-10, Solomon identifies the importance of giving to the Lord and the spiritual and temporal benefits associated with its practice. The Hebrew word for honor is kabed and it has the idea of something that weighs heavily and when referring to another person (the Lord) it means to honor, to place in high esteem. The Bible is filled with warnings of not honoring God and one prominent passage is found in Malachi 3:8-10 when the writer asks the question, "Will a man rob God? Yet you are robbing Me! But you say, 'How have we robbed You?' In tithes and offerings." To dishonor God in our giving is to rob him! On the other hand, He promises that when the believer tests God by giving what God asks, he will receive "a blessing until it overflows". One other biblical point about giving to the Lord: "He who oppresses the poor taunts his Maker, but he who is gracious to the needy honors Him." Giving to the Lord includes our support to the needy.
Discipline
Finally, in verse 11-12, the matter of the Lord's discipline is emphasized. If the believer is to find depth in his relationship with God, he must be brought there by God. This process involves reproof, correction, or even chastisement, depending on the situation. Verse 12 reminds us that discipline is for those whom God loves as sons; it is a form of instruction based on the particular need. Eliphaz says in Job 5:17 that, "Behold, how happy is the man whom God reproves, so do not despise the discipline of the Almighty." Hebrews 12 directly quotes Proverbs 3:11-12 and goes on to say that without discipline, one is considered an illegitimate child and not a son (verse 8). In verse 10, "He disciplines us for our good, so that we may share His holiness." Since the believer is never holy apart from God, this is our means of access in sharing His holiness.
"11 Come, you children, listen to me; I will teach you the fear of the Lord. 12 Who is the man who desires life and loves length of days that he may see good? 13 Keep your tongue from evil and your lips from speaking deceit. 14 Depart from evil and do good; seek peace and pursue it." (Psalm 34:11-14)
Spirituality does not happen to us by happenstance or all-of-a-sudden, but is the result of a pursuit for truth, for a meaningful relationship with God. Proverbs 3 can take us there.