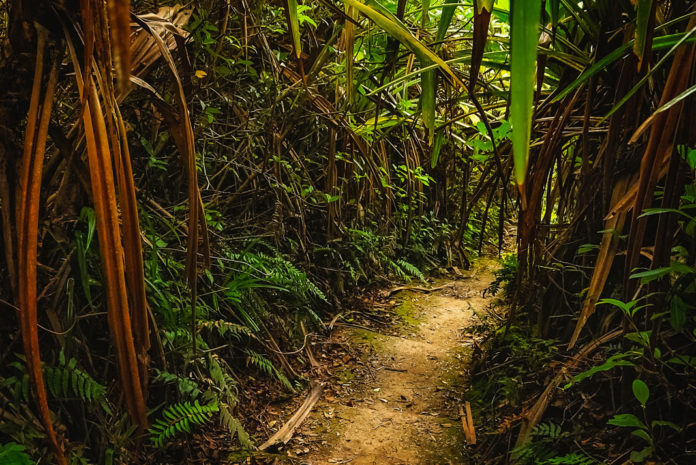 An Encounter with ISIS: How God Protected Us
The warning came exactly one week before we were scheduled to leave. It was a text message from Pastor Ronald, our representative in the Philippines. Puzzled by why he would text me since our correspondence was always via email, I opened my message box on my cell phone. What I read shocked me.
Rick,
ISIS has kidnapped Pastor Danial of the church in the tribal area of Maasim, the church your team is scheduled to visit next week. We are trying to find him but until we do, we have to assume ISIS now knows about your team and your plans. You may want to postpone your trip.

Ronald
For almost six months my team of five had been planning to fly to the Philippines to minister in the poor areas of Davao and the jungles of Mindanao. It was a trip I had taken every summer for seven straight years without a single problem although the State Department routinely warns American citizens not to go to this area. But now the danger was real and directed at my team.
I texted Ronald telling him to keep me posted then contacted my team. I knew Bonnie and I would go anyway, not because we were foolhardy, but because we knew God wanted us there. But I had to give each member of my team the opportunity to make a choice.
By that evening, the other three members let me know they were going too. I was proud of my team and the willingness of all of us to put our faith on the line. We were not going to let ISIS stop us from serving the Lord. The rest of the week I followed Ronald's texts as if they were reports from a war zone which–in many ways–they were.  The reports confirmed our decision and demonstrated the power of God. It was a tense week as we counted down the time to departure and monitored Ronald's bulletins.
Six days before we were to leave, Ronald reported that Pastor Danial had been released but was still somewhere in the jungle. We were to learn later the miraculous means of his deliverance but for the moment we were concerned about his whereabouts.
Five days: Ronald reported that Pastor Danial was still missing but he and several pastors were planning to drive to the area at midnight to evacuate his family and look for him. My team prayed for the mission.
Four days: Ronald reported the mission was a success. They found Pastor Danial and drove him and his family back to his church to hide them.
Three days: Ronald reported that ISIS had Pastor Danial's cell phone containing contact information for all of us and notes about our visit. He warned us that ISIS Commander Tokboy had called him several times demanding Pastor Danial be returned or he would hunt us down and in typical ISIS fashion, behead us all. My team talked it over and prayed. We decided to stick by our initial decision. We were going.
Over the next two days we packed, prayed and prepared ourselves. Ronald continued to report daily threats. Knowing that the family had left everything behind we raised funds to help them when we arrived.
After 22 hours in the air and sitting in airports, we arrived in Davao at 6:30 am. Ronald was at the airport to pick us up. It was hot and humid. We were tired. The jeep was small and cramped, but instead of going to our hotel we had Ronald take us to the church so we could meet Pastor Danial and his family.
When we arrived, Pastor Danial, his wife and eight children were sitting in a line on a bench under a canopy.  Pastor Danial stood and smiled. He was short and had a weathered look about him. I was surprised at how thin he was. He didn't look like someone who had just bested ISIS alone. Of course, I knew he hadn't been alone.
I walked up and hugged him. "I'm so glad you and your family are safe."
He smiled. After introductions, my team sat down to hear Pastor Danial's story.
+ + +
He was alone in his church when two men with rifles walked in.  They told him if he came with them they wouldn't hurt him but Pastor Danial had heard enough stories to know that wasn't true. Yet, he had no choice but to obey.
They drove him on a rut-filled dirt road deep into the jungle. He didn't ask questions and neither of the men volunteered anything. He didn't know if these were the New People's Army or Islamic terrorists.
They stopped at a small clearing and then walked further into the jungle to a small camp. As soon as they arrived he saw the black ISIS flag on a pole. Islamic terrorist. They escorted him over to a hole about nine feet deep and a dozen feet across. Once on the edge they took his phone and pushed him in. He landed on his feet in the soft mud at the bottom. He knew his fate. He'd heard about these holes. No one came out of one alive.
He prayed and waited. He spent several days in the hole. Cold and coated with mud he got very little sleep. Occasionally, someone would drop down a little food and some water. Late on what seemed to be day three, four men, three with rifles and one with a handgun, circled the hole. The one with the pistol identified himself as ISIS Commander Tokboy. From Pastor Danial's vantage point in the hole it was hard to make out his features but his voice was deep and laced with contempt.
"Are you the one that has been passing out bibles in this area?" Commander Tokboy asked.
Pastor Danial nodded.
"Then you are guilty of counter-Islamic activity. You must die."
The Commander raised his pistol.
Pastor Danial closed his eyes and prayed for God to save him. At that moment a phone rang. He opened his eyes in time to see the Commander back away holding a cell phone. He couldn't make out what was being said but it was clearly an argument and the Commander seemed upset.
After a short time, the argument stopped and Commander Tokboy appeared. He glared down at Pastor Danial. "You must have important friends. I've been told not to execute you. I'll let you go but you will stop handing out Bibles. If you report this to the police or military I will kill you and your entire family."
Pastor Danial only nodded as he looked down at the ground. He didn't dare smile for fear the commander would change his mind and shoot. But he knew who the important friend was and he silently praised God.
+ + +
When he finished we all were quiet for a moment. It was so surreal, like something out of a movie. Eventually, Bonnie stood up and walked over to hug his wife. It seemed like the best time to give him the money we raised at the last minute to help his family. Both he and his wife began to cry.
Later that day, Ronald pulled me aside and said that Commander Tokboy continues to text him multiple times during the day demanding the return of Pastor Danial and threatening to find all of us and chop our heads off.  I told him that though I was concerned I felt safe as long as we stay in or near Davao.
That's far from the end of this story. It turns out we had nothing to fear but Commander Tokboy did.
Our original plan had been to spend a couple of days with Pastor Danial at his church and host a pastor's conference. That, of course, had to be scrapped. In it's place, Ronald found a small hotel on the Philippine Sea with a meeting room not far from our base in Davao. We decided to bring the pastors up from Maasim and have the conference at the hotel.
The pastors agreed. In fact, they were excited to leave the area. Even though they hadn't been passing out Bibles and had not been harassed by ISIS they were understandably nervous.
The conference ran smoothly and the way it ended was nothing short of a miracle. It was clear to me that the pastors were unsure about returning home. So, I asked them to gather in the middle of the room. My team surrounded them and started at just a few minutes after 5 pm to pray that God would keep them safe.
At the end of the prayer they went to their rooms to pack so they could return first thing in the morning. Ronald took my team back to the hotel.  We had settled in our rooms when the phone rang at a little past 9 pm. It was Ronald.
"Rick, I have great news. The pastors are in their rooms singing praises to God. They just got word that at 5 pm today the Philippine army raided Commander Tokboy's camp. The commander was wounded in a shoot out and captured."
And that is how God protects His people.
---
Richard Spillman is a retired Computer Scientist who typically writes Christian non-fiction (The Passion of Job and Do What Jesus Did, both available on Amazon) as well as a Christian blog ). His latest passion, however, is Christian fiction. His first novel, The Awakened, is waiting for a publisher to pick it up. He is represented by Jim Hart of Hartline Literary Agency. The story asks the question: "What if Lazarus didn't die a second time?" He was led to write it after avoiding being kidnapped by ISIS in the Philippines and then receiving death threats (to behead him in standard ISIS fashion) during the rest of his missionary service there. Besides the blog he is active on Twitter (https://twitter.com/awakenedtrilogy) and Instagram where you can see pictures from his missionary travels around the world.