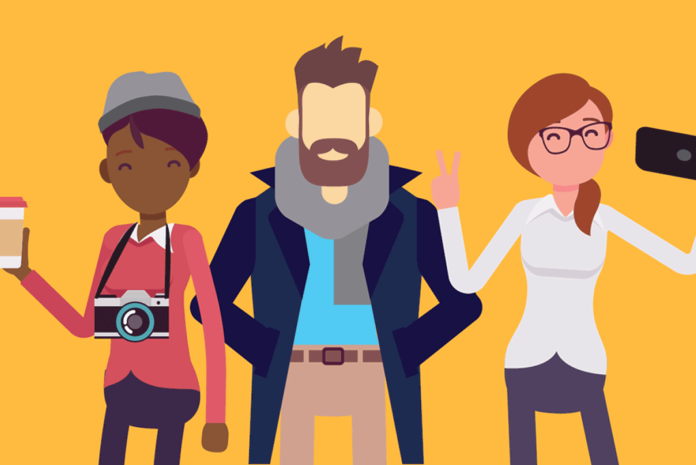 Recently, I stumbled upon a Facebook post by an organization named echurch. They were marketing an ebook called "The Ultimate Guide for Reaching Millennials." Of course, they were giving the ebook away in exchange for your contact details (known as a tripwire in digital marketing vernacular) whereby echurch invited you to receive a demo of their mobile tithing platform with the hopes of getting your business.
While the guide itself was 'fine'—which is somewhere between 'meh' and 'holy cats, that was brilliant'—it was, by no means, 'ultimate'. Though 26 pages in length, there was only about 15 pages of content, once you got past the front and back covers, the author bio, table of contents, a big call-to-action and several half-filled pages. A little slow to start, I was pleased when they eventually pointed to some hard research around declining millennial church attendance and giving.
All in all, I was smarter about the millennial generation than when I started.
But this post isn't about how well the echurch ebook did or didn't do its job.
Marketing Myopia in the Church
This post is about the myopic reaction by Christians to an ebook intended to better equip the Church in evangelizing the millennial generation.
The post was initially promoted on Facebook, and after about a week of hanging out there, negative comments began to filter in. Unfortunately, instead of holding a dialog with the dissenting opinion-holders, echurch simply hid the post from their feed. Too bad, as I think they have a strong case and really could have used the opportunity to engage their audience.
Let's dive into some of the comments. (Typos have been allowed to remain.)
Facebook Folly Follows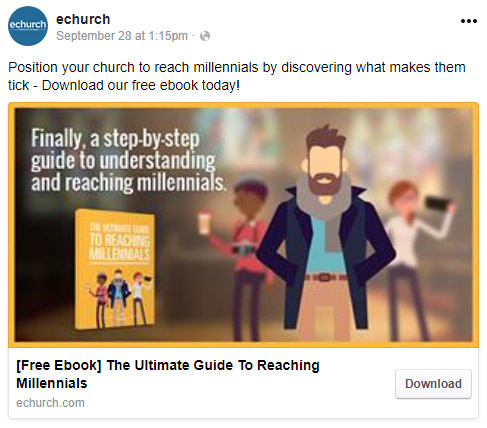 I guess this would include millennials?
Romans 1:16-17 ~ For I am not ashamed of the gospel of Christ, for it is the power of God to salvation for everyone who believes, for the Jew first and also for the Greek. For in it the righteousness of God is revealed from faith to faith: as it is written, "The just shall live by faith."
This comment seems to miss the mark. The guide discusses how to reach millennials. Reaching people is the step before growing people in boldness and faith.
I haven't read this book, but Hasn't God already written a book with the answer to reaching all of mankind?
Waitwaitwait.. so you're chiming in on something you haven't even investigated? Awesome.
Actually, I think the Word is more about Jesus and our identity in Him than a playbook for reaching all mankind. If it was an answer to reaching all mankind, no one would ever reject the Gospel, and yet we know many do. In fact, the Pharisees and Sadducees knew the Old Testament by heart. They should have been better positioned than anyone to recognize the Messiah. Yet, the Messiah of prophesy actually stood before them in the flesh—teaching and working miracles before their very eyes—and they nailed Him to a Roman cross.
If the word of God don't reach millennials we in big trouble yaw. Just preach the word. It's irrefutable, it's infallible and its inerrant.
Here someone spoke up. Tom P said, "Correct, but they need to hear it first…"
Right?
Try this simple experiment. From the comfort of your home office, play an audio recording of someone reading the Bible. Leave your office and close the door behind you. Let this symbolize the Church.
Now, invite a bunch of people over but never invite them into your office where the Bible audio is playing. Instead, have a party, with food and drinks and games and much socializing. Listen to music. Watch a movie. The rest of your home represents the world.
At the end of the evening, after everyone goes home, how many decisions for Christ happened while the Word was playing away in your office? What? None, you say? But the Word was preached the entire time!
There seems to be a notion that the Word of God is enough to bring people to conviction, confession and conversion. I wish that was the case. I do. But if that were the case, there would be no reason to separate the sheep from the goats in Matthew 25:31-46. There would be no need for the judgement. People would simply be exposed to the Word, turn from their wicked ways, and fall in love with Jesus. Evangelism could be effected by piping the Word through loud speakers atop a van rolling down the street and all within earshot would be saved.
When they (people of any age) encounter Jesus, God, Holy Spirit they will want more of Him. If the Holy Spirit is not in that church, and the Church not built under His direction it's all man's efforts and will come to nought. Psalm 127:1
For the record, Psalm 127:1 (KJV) says "Except the Lord build the house, they labour in vain that build it: except the Lord keep the city, the watchman waketh but in vain."
Unless I'm missing the intention behind this comment (possible), the author is indicating once people get a taste of God, they will want more. If that was the case, what about Matthew 27:21-24, where Jesus clearly tells us not everyone who says, "Lord, Lord" will enter the Kingdom? This should terrify us, right? That means there are church-going Christians who won't see Heaven. Look up Jesus' words to the Laodicean church in Revelation 3:14-22 and tell me those people didn't think they were in good standing. Then recognize the seven churches described in Revelation also reflect the ages the Church will pass through prior to the end of days. The Laodicean church is in full operation today.
Reaching this demographic is easy … just give them everything they want and allow them to take no responsibility whatsoever… problem solved.
Man, I don't think Jesus talks about us this way. If we don't see it in Him, we're not to see it in us.
Sounds interesting but why do they require so much personal information to get the Ebook?
Because they're looking for the lowest conversion rate possible? Just guessing. Yes, this is a marketing mistake on their part. As was pulling this thread from their feed.
Why are millennials any different from any of the rest of mankind? We all have sinned and fallen short of the mark, and are in need of a saviour. The message has not changed, nor has God's grace and mercy which we all are in desperate need of. The message is timeless, and sufficient.
Another comment that misses the point of the ebook being how to reach the millennial "nation". Jesus said "go forth and make disciples of all nations," not "build big buildings and worry about how to keep the lights on."
Though the ebook doesn't mention a single line of Scripture (which should be odd to us coming from an organization calling themselves "echurch" but we can recognize PushPay is secular first), the Gospel message isn't in doubt here.
It's our ability to deliver the Gospel message that is being assisted.
So I guess this will change with every generation? This communicates that God needs help.
Well, brother, God isn't up there ordaining everything that happens. He did tell us to go forth and subdue the earth. We are given a sword and a shield for a reason. Jesus did tell us to go forth and make disciples of all nations, not quietly sit at home and count ourselves saved. What did Jesus do? What did He raise His apostles to do? Then I guess that's probably what we're called to do too, right?
No, God doesn't need our help; we need His.
The only thing is the blood of Jesus. Anything else is Bogas!
Not sure I even need to grace this one with a response. Same misplaced defensive posture as the others.
Jesus makes them "tick".
Once they know Him, yes. Before then, we call those folks "lost".
This is needed.
Finally, someone gets it.
To Evangelize Who We Can, We Do What We Can
As you can tell by my commentary, by the time I read to the end of this thread, I was appalled. I asked a pastor friend of mine if his church ever did any marketing to their local community.
He said, "Oh yes. You have to."
Just as I suspected.
Then he pointed out, "Even Jesus was heralded by John the Baptist."
Do you get that?
Jesus had a PR guy that set the stage for His ministry. His name was John.
So if you think the Word of God will convert everyone it reaches, then you haven't read your Bible. Israel even had God living among them and they still turned to idols. Over and over and over. Are you kidding?
Paul says in 1 Corinthians 9:22 "I am made all things to all men, that I might by all means save some." I think his example to us is to do what we can to reach those we can.
I challenge us to recognize the difference between delivering the Good News and receiving the Good News. The intention to reach the millennial generation is a good one.
Just as Paul spoke Greek to Greeks and Hebrew to Jews, so too must we learn our audience and do our part to connect them with the Gospel. It is by the blood of the Lamb ~and~ the word of our testimony.
Yes, all fruit comes through the Holy Spirit, but it is we—made in His image—who have been commanded to go forth and work the fields.