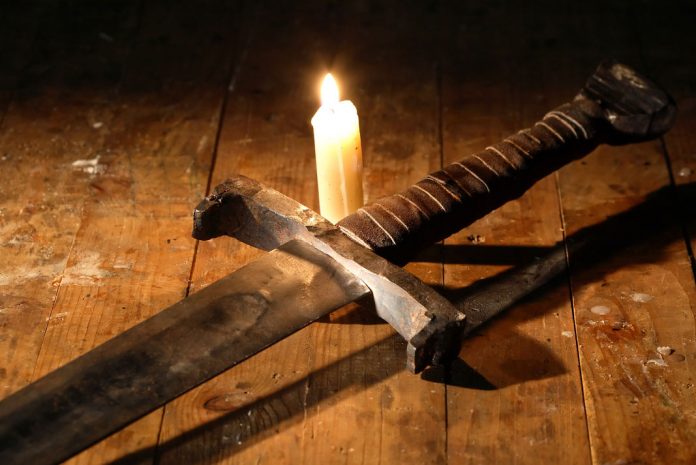 Sometimes, we believers forget we're embroiled in a spiritual battle waging in an invisible realm all around us. "My people are destroyed for lack of knowledge," is a Hosea 4:6 reality. Unfortunately, we seldom think to connect our natural trials to supernatural causes, so we rarely fight back with the supernatural power and authority we've been given. Is every trial a gift sent from the enemy? No. We know the storm comes to both the foolish and the wise. (Matthew 7:24-27) And then there's sowing and reaping. (Galatians 6:7-9)
Still, if we're actually living like salt and light in this fallen world, we should eventually end up on hell's radar, right? If we're not experiencing the occasional spiritual attack, we may not be pursuing God's Kingdom as much as we thought!
God's Word is the Living Truth given to our darkened world. Through it, we know the power of life and death is in the tongue. (Proverbs 18:21) When we lift God's Word in bold, fervent prayer, standing faithfully on His promises–even in the face of what our natural eyes see, the natural wisdom of others or our gloomy temporary circumstances–we effectively wield "the sword of the Spirit." (Ephesians 6:17) Just as Simon Peter began to sink into the stormy sea when he took his eyes off our Lord (Matthew 14:22-33), we also become fearful and overwhelmed when our eyes are more focused upon our troubles than on Jesus. He alone is our Rock; placing our trust upon anyone else (including ourselves) is a foundation built on sand. (1 Timothy 2:5)
Though these Scripture-based spiritual warfare prayers are written in a first-person perspective, you can easily tailor them to apply to whomever or whatever you're covering. Extend these prayers over yourself, your loved ones, marriages, ministries, health, emotions, finances, home; wherever you're experiencing hardship, trial, persecution or spiritual oppression.
As the Word teaches, "For though we walk in the flesh, we do not war after the flesh: For the weapons of our warfare are not carnal, but mighty through God to the pulling down of strongholds, casting down imaginations and every high thing that exalts itself against the knowledge of God, and for bringing into captivity every thought to the obedience of Christ." (2 Corinthians 10:3-5) It is not by might nor by power, but by His Spirit, that we overcome. (Zechariah 4:6)
In the words of our King, "I have told you these things, so that in Me you may have peace. In this world you will have trouble. But take heart! I have overcome the world." (John 16:33)
---
Father, Your Word says that no temptation has overtaken me except what is common to mankind. God, You are faithful; You will not let me be tempted beyond what I can bear. I know when I am tempted, I have only to turn to You and You will provide a way out that I may endure. (1 Corinthians 10:13) I submit myself to You, Father, and as I do, I resist the devil and he must flee from me. (James 4:7) I am self-controlled and alert. I resist evil and stand firm in the faith. (1 Peter 5:8-9)
Father, you are faithful! You strengthen me and protect me from the evil one. (2 Thessalonians 3:3) You cause my enemies to be defeated before me. They may come out against me one way but they will flee before me seven ways. (Deuteronomy 28:7) No weapon formed against me will prosper; and every tongue that accuses me in judgment I will condemn. This is the heritage of the servants of the Lord, and our vindication is from You, Father. (Isaiah 54:17)
God, in You I am strong and courageous! I will not tremble or be dismayed, for the Lord my God is with me wherever I go. (Joshua 1:9) I conquer the enemy by the blood of the Lamb and by the word of my testimony, and I will not love my own life even unto death. (Revelation 12:11) Lord, I will wait upon you. You renew my strength; You lift me above the fray; I will run and not grow weary; I will walk and not faint. (Isaiah 40:31) I will not be overcome with evil, but I will overcome evil with good. (Romans 12:21) I am from God and will absolutely overcome because greater is He who is in me than he who is in the world. (1 John 4:4)
Jesus, I must know Your truth, because it's through Your truth that I am set free. (John 8:32) I thank you You're establishing Your truth in me, day by day and moment by moment, and as You're building me up in Your truth, no longer am I a slave to sin. No longer do I fear. Who the Son sets free is free indeed! (John 8:34-36)
Jesus, You have given me authority to tread on serpents and scorpions, and over ALL the power of the enemy, and nothing shall hurt me. (Luke 10:19) You taught that it's the thief that comes to steal, kill and destroy. Jesus, You came that I may have life and life abundant. (John 10:10)
Jesus, you said whatever we bind on earth will be bound in heaven, and whatever we loose on earth will be loosed in heaven. You taught if two on earth agree about anything they ask for, it will be done for them by our Father in heaven. (Matthew 18:18-19) Your earthly mission was to destroy the works of the devil (1 John 3:8) and You have given me the authority to do the same. (Matthew 28:16-20)
God, You say in Your covenant of protection for us, "Because he has set his love upon Me, therefore will I deliver him: I will set him on high, because he has known My name. He shall call upon Me, and I will answer him: I will be with him in trouble; I will deliver him, and honour him. With long life will I satisfy him, and show him My salvation." (Psalm 91:14-16) I thank you for complete deliverance, in the name of Jesus Christ.
God, if You are for me, who can be against me? (Romans 8:31) In all these things, I am more than a conqueror through He who loves me. (Romans 8:37) Thank you, Father, for giving us the victory through our Lord Jesus Christ. (1 Corinthians 15:57)
Amen!