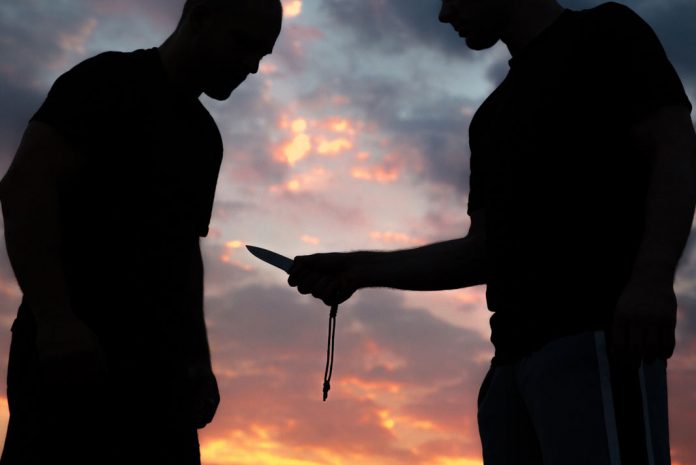 Respectfully, I think I'm noticing an underlying trend over the past few years since I first wrote this article on Christian martial arts. Let's take a moment to look at the most-used defense for Christian violence. I'll call it the "Loved Ones Defense".
The Loved Ones Defense of Martial Arts
In the Loved Ones Defense, the Christian martial arts enthusiast has to look past Jesus' numerous examples of non-violence. Had Jesus throat-punched a single raging Pharisee or pummeled a demon-possessed Jew into holy submission, we might absolutely have a case for Christian martial arts.
But if the imagery of Jesus as a mixed-martial artist seems ridiculous, it should tell us something. And, if it's ridiculous when we place the image upon Jesus, it should be equally ridiculous when we put it upon ourselves; we are made to be conformed to His image (Romans 8:29, For whom he did foreknow, he also did predestinate to be conformed to the image of his Son, that he might be the firstborn among many brethren.) We are not to be conformed to the image of this world (Romans 12:2, And be not conformed to this world: but be transformed by the renewing of your mind, that you may prove what is that good, and acceptable, and perfect, will of God.)
Here, martial arts defenders may quickly pivot to use the "But That Was Jesus Block", but this simply reveals they are not settled on Jesus' humanity and what it means for us if He walked fully human. Hint: Jesus was tempted at every point (Hebrews 4:15), yet we also know God can't be tempted (James 1:13); Jesus walked as a man, fully human and fully divine, yet did not count equality with God something to be held (Philippians 2:5-11). More, in Matthew 16:24-26, Jesus calls us to deny ourselves, pick up our crosses and follow Him. He wouldn't have said, "Follow me," if it wasn't possible. He had to be fully human for us to stand a chance at following Him.
Back to the Loved Ones Defense. Ask yourself a few simple questions. In John 8, when the mob brought the adulterous woman before Jesus, they were ready to stone her, right? Did Jesus love the woman? Of course He loved her; just as He loved the murderous mob. How did He diffuse the situation and defend this lost child of God? Did He rely on His reflexes? Eye-gouges? Headbutts? Arm-bars?
No. He used the wisdom of God.
We are called to follow in His footsteps.
We are not to use martial arts for self-defense; God alone is to be our defender (Psalm 62:5-7, My soul waits only upon God; for my expectation is from him. He only is my rock and my salvation: he is my defence; I shall not be moved. In God is my salvation and my glory: the rock of my strength, and my refuge, is in God.)
We are not to use martial arts to build self-confidence. Our confidence is to be rooted on the rock of Jesus Christ (Colossians 2:7).
In fact, Jesus calls us to deny the self. The only self we really get to Biblically employ is self-control. It was self that ushered in the Fall. We were never made for ourselves and we've been bought with a very high price: the blood of Jesus Christ.
The Believer's Matrix
When we find ourselves fighting to hold onto things that aren't of Him, it seems timely to stop and identify where we're at in our Christian journey. I think we can sort ourselves into one of four spiritual locations. These are:
Unbelieving Unbelievers: These haven't accepted Jesus as Lord and Savior. These people draw their identity from the creation as opposed to the Creator. Though they tend to be wise in their own eyes, blindness reigns here. Toward the Gospel, they may be ambivalent, completely hostile or friendly and tolerant.
Believing Unbelievers: They may say they have accepted Jesus as their personal Savior but even the casual observer can see He is not Lord over their lives. Believing Unbelievers may even go to church religiously, but they stumble and trip through life just as carnally as Unbelieving Unbelievers.
Unbelieving Believers: They have accepted Jesus as Lord and Savior. They may be "baby Christians" or long-time Christians who never matured. They may know very little of the Word or they may have memorized the entire Bible, yet the heart-based reality of many of the Bible's promises and claims eludes them.
Believing Believers: Folks who are growing in relationship with Jesus as Lord and Savior, who are growing in the Word, and who are pressing into actually believing what it says. Jesus says these folks will be in the minority.
If we mapped these four categories out, it might look something like this: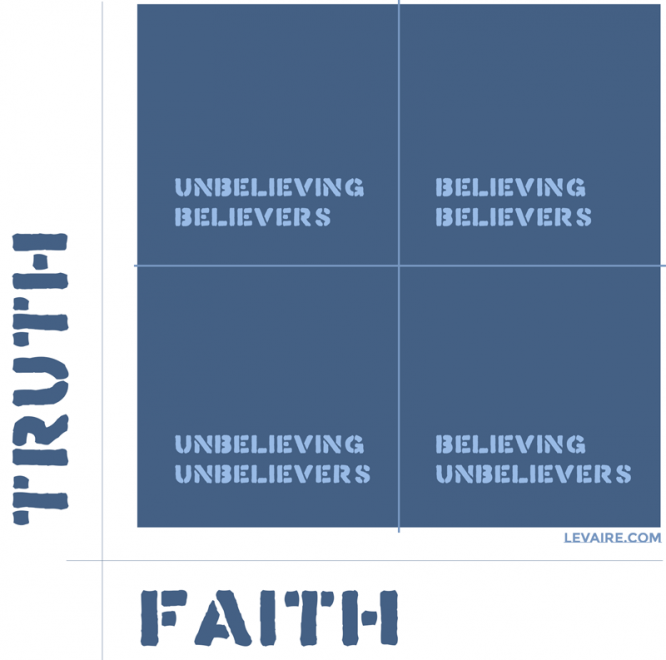 Obviously, we know this grid is not proportionally accurate, as Unbelieving Unbelievers would be the largest quadrant. The Believing Believer's quadrant would be the smallest (Matthew 7:13-14), and even those folks are works in progress like everyone else on the grid.
What is the core problem behind Christians defending martial arts? We simply do not believe the Word of God.
Yeah, that's it. We either
don't believe the Bible is truly God's Word, or
we don't know of God's promises for protection, or
we don't believe them (even though God can't lie; there is no darkness in Him.)
So which is it for you?
Regarding the matrix itself, hopefully–as you reread the definitions for the four positions–you have a sense for where you might fall on this grid. Even if you're humble enough to admit you're not resting in the Believing Believer's quadrant, you are still called to it; we all are. Your current position in no way dictates your final position.
Want to shift your position on this grid? Pray it out. The Holy Spirit would love to help you get armed properly.
Psalm 91: Kingdom-Style Self-Defense
But maybe by now you're struggling with what God-given defense looks like if it doesn't look like physically beating the snot out of the other guy (who is also an image-bearer of God, albeit a deceived one.) I would like to offer you Psalm 91, God's covenant of protection for the Bible-Believing Believer. Let's walk through it briefly, with the KJV's thee's and thou's removed for readability.
He that dwells in the secret place of the most High shall abide under the shadow of the Almighty. I will say of the Lord, "He is my refuge and my fortress: my God; in him will I trust."
Stop. In whom do we trust? Who is my refuge? Who is my fortress? Where must we be dwelling to experience His covering? We could stop right here, but wait.. there's more..
Surely he shall deliver you from the snare of the fowler, and from the noisome pestilence. He shall cover you with his feathers, and under his wings you shall trust: his truth shall be thy shield and buckler.
Uh-oh. "Surely"? He will deliver us from snares and sickness? His truth shall be our shield? These are promises. Do we believe them?
You shall not be afraid for the terror by night; nor for the arrow that flies by day; Nor for the pestilence that walks in darkness; nor for the destruction that wastes at noonday.
Yeah, the "bad guys breaking into your house at night" is a favorite scenario people use to cling to their weapons of personal destruction and their martial arts. Let's keep reading…
A thousand shall fall at your side, and ten thousand at your right hand; but it shall not come near you. Only with your eyes shall you behold and see the reward of the wicked.
God's protection is no joke. I wonder how we can obtain covering like this?
Because you have made the Lord, which is my refuge, even the most High, your habitation; There shall no evil befall you, neither shall any plague come near your dwelling.
Oh. That's how.
For he shall give his angels charge over you, to keep you in all your ways. They shall bear you up in their hands, lest you dash your foot against a stone. You shall tread upon the lion and adder: the young lion and the dragon you shall trample under foot.
Angelic, heavenly protection sent by the Father Himself. What seeks to destroy us will find itself trampled.
And here comes God's response to us. This is His promise; His half of the covenant:
Because he has set his love upon me, therefore will I deliver him: I will set him on high, because he has known my name. He shall call upon me, and I will answer him: I will be with him in trouble; I will deliver him, and honour him. With long life will I satisfy him, and show him my salvation.
Do You Believe the Word of God?
Are you a Believing Believer? Are you pressing into actually believing the Bible is the Word of God and—if you believe it's the Word of God, and I mean really believe it in your heart—are you believing God's promises? There are a whole lot of godly, church-going, Jesus-loving Christians who stop short of believing the Bible in its entirety. Yet, if we believe, our lives should reflect it.
God promises to cover us, even in trouble, if we'll abide in Him. It's not a transaction, as much as an invitation to return to our original position in the garden. We were made for communion and we have awesome protection from that place.