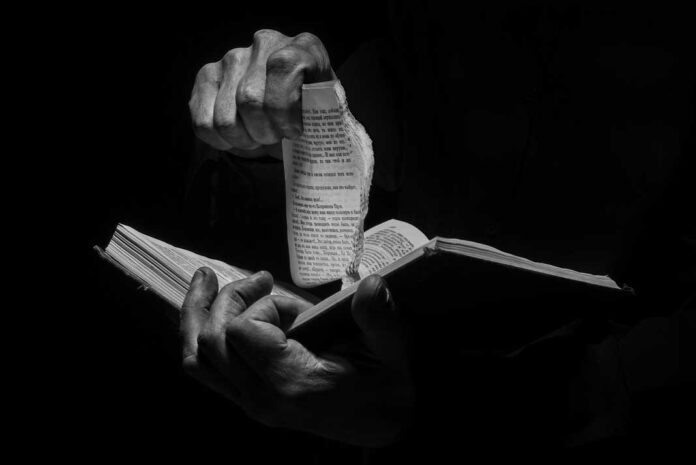 [UPDATE 1/28/2023] An expanded lesson on the Olivet Discourse can now be found at ProphecyCourse.org.
When I first began to wrestle with Jesus' Olivet Discourse (which emerges from a heated Matthew 23, rests solidly in Matthew 24 and then ascends into end-of-days judgment by Matthew 25), I struggled.
At one point, I thought I had it figured out. Like many others, I determined there had to be a line drawn somewhere through the middle of Matthew 24 in order to make sense of the end-of-the-world, imminent rapture language that appears by v29-31:
Immediately after the tribulation of those days shall the sun be darkened, and the moon shall not give her light, and the stars shall fall from heaven, and the powers of the heavens shall be shaken:
And then shall appear the sign of the Son of man in heaven: and then shall all the tribes of the earth mourn, and they shall see the Son of man coming in the clouds of heaven with power and great glory.
And he shall send his angels with a great sound of a trumpet, and they shall gather together his elect from the four winds, from one end of heaven to the other.
Some folks seem to rightly read a local 70AD judgment coming to Jerusalem into Matthew 24:1-14, but then they pull Matthew 24:15-31 out of that century and project it 2,000+ years later into our own not-so-distant future. After this, it becomes anyone's guess as to who and when the rest of Matthew 24 is given.
When I hacked at the Olivet Discourse like this, I drew my line at v29 (even though our Lord says "IMMEDIATELY AFTER the tribulation of those days…"). I figured that was the clear dividing line that had somehow been missed by Bible scholars immemorial. At this point, I still didn't understand the Jewish apocryphal language surrounding the "day of the Lord", so I was reading these expressions of speech literally. That was my mistake.
(Interestingly, some folks will thoughtfully look at the synoptic counterparts–Mark 13 and Luke 21–and even draw the line in different places depending on the book.)
Consider this. Matthew, Mark and Luke are considered the synoptic gospels because they're so in sync with one another, right? A lot of overlap in their accounts of the life and words of Jesus but different enough that we recognize they were written independently of one another, likely via oral tradition.
One of the key places I struggled with (and, in other passages, still struggle with) was understanding Jewish expressions.
The Abomination of Desolation
As we read the Olivet Discourse, we must be wary of getting caught by the difference between the Jewish idioms and our modern day understanding.
For instance, Matthew 24 says, "…the abomination that brings desolation…standing in the holy place…" but Luke 21:20 makes it clear, "…when you see Jerusalem surrounded by armies…" Both passages are speaking of the same impending destruction, however Matthew uses an expression first-century Jews would be familiar with and Dr. Luke spells it out for his first-century, emerging-from-paganism Gentile audience.
2,000 years later, that contrast helps us understand the "abomination of desolation" reference. Indeed, the pagan Roman army would turn out to be the abomination that brought desolation to Jerusalem.
The Sun, Moon and Stars
Jewish idioms around impending judgment abound in all three gospels, where we have the sun, moon and stars being put out, stormy seas and heaven being shaken. If one doesn't understand the "day of the Lord" language, a modern, 21st century reader may end up taking this literally.
From my earlier study on the "day of the Lord", here are key Scriptures you'll want to explore:
Isaiah 13:9-11, we see judgment coming to Babylon at the hand of the Medes fulfilled in 539 BC.
Nahum 1:3, we have judgment coming to Nineveh at the hands of the Babylonians and Medes, as fulfilled in 612 BC.
Jeremiah 46:10 and Ezekiel 30, where the prophets lament judgment coming to Egypt at the hand of the Babylonians.
Finally, still more Old Testament examples of the day of the Lord can be found in: Zechariah 14, Obadiah and Isaiah 34 (judgment over Edom), Lamentations 2:22, and Malachi 4:5-6 (foreshadowing the fall of Israel by 70AD.)
If We Only Knew Our Old Testament
So if we were intimately familiar with the Old Testament witnesses, by the time we get to Matthew 24, Mark 13 and Luke 21, we would be well-versed on Jewish apocryphal language, right? But we're not, Church. If you're anything like me, you didn't grow up with the Word as a central study in my life like a citizen of Judah would have in the first century. I grew up in the West, 2,000 years removed.
The moral of this story: Many of the Jewish cultural allusions are lost to us and have to be learned in order to arrive at the original context and meaning.
All this to say, I don't believe Jesus departs from warning His disciples of the incoming doom heading for Israel and Jerusalem to drop in a tidbit that won't come to fruition for thousands of years (though He actually seems to end up there by Matthew 25?)
Our Lord was speaking to that generation and His words were fulfilled within a Biblical generation, 40 years later, when the Roman armies razed Jerusalem in 70AD. Prophesy fulfilled.
The Word is AMAZING!!