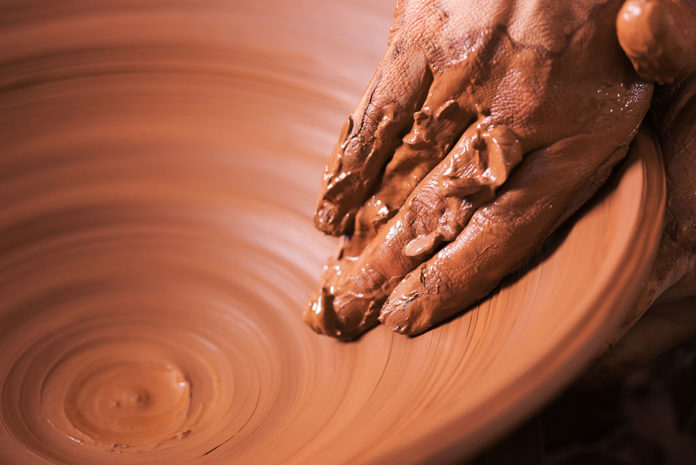 This message was originally written for an intra-church outreach campaign focused around an outdoor music festival called "Common Ground". This talk was first delivered to a small team of local evangelists who met at Maranatha Church for messages, prayer and announcements prior to beginning their work at the festival. The talk speaks to personal concerns held by the evangelists, who—over the course of the outreach—had expressed challenges they were experiencing in their own lives.
Early in my career as a web designer and Internet marketer, I took a lot of pride and identity from my work. In fact, I took so much identity from my work that when I would experience trouble with a client, it would wreck me emotionally. It took me years on an emotional roller-coaster before I learned that not all clients are a fit. For every 10 to 12 jobs I took over the course of a year, one always seemed to implode. Of course, I always tried my best to salvage any project, but sometimes things just took a turn. This was a bitter pill until I learned to not glean so much of my personal identity from my work. I also learned to communicate more and to be more selective about both my clients and the contractors I hired.
Where Do We Get Our Sense of Self?
Our identity comes from one of two places: either from the world or from God. Another way to put it: our identity comes from either the creation or our Creator. Seeing as the things of this world are temporary (family, friends, culture, media, etc.,) it's obviously best to claim our identity from our infinite God, in whose image we were created. Still, where does this broken sense of world-driven identity come from?
Genesis 3:6-10
And when the woman saw that the tree was good for food, and that it was pleasant to the eyes, and a tree to be desired to make one wise, she took of the fruit thereof, and did eat, and gave also unto her husband with her; and he did eat.
Good for food to whom? Pleasant to whose eyes? To make who wise? Adam and Eve decide against God's will for them, and in choosing their own path, humanity falls into sin. Don't think for a second your or I would have done any better. Adam and Eve walked with God, among His glorious, untarnished creation, and still, humanity fell within the first generation of a single family. The probability for this error would only be higher had there been more than two people in the beginning. This should show us something about ourselves and the nature of free will. Even a third of the host of heaven fell through free will. The problem isn't with free will, but with what we do with it.
7 And the eyes of them both were opened, and they knew that they were naked; and they sewed fig leaves together, and made themselves aprons.
8 And they heard the voice of the Lord God walking in the garden in the cool of the day: and Adam and his wife hid themselves from the presence of the Lord God amongst the trees of the garden.
Self-consciousness leads to self-protection; self-preservation.
9 And the Lord God called unto Adam, and said unto him, Where art thou?
Of course, God knows where they are, just as He knew what they would do. God calls us to conviction, confession and repentance, as modeled first here.
10 And he said, I heard thy voice in the garden, and I was afraid, because I was naked; and I hid myself.
Self-centered desire leads to self-consciousness, self-focus.
Matthew 24:37-39
37 But as the days of Noah were, so shall also the coming of the Son of man be.
38 For as in the days that were before the flood they were eating and drinking, marrying and giving in marriage, until the day that Noe entered into the ark,
39 And knew not until the flood came, and took them all away; so shall also the coming of the Son of man be.
Self-indulgence and self-preoccupation.
More Examples of Self-Seeking
In Genesis 20, Abraham lies about being married to Sarah so he is not killed.
Self-preservation. Self-protection.
In 2 Samuel 11, David takes Bathsheba for his own and sends her husband into battle and certain death.
Self-gratification.
The kings of Israel and Judah were primarily self-seeking and self-motivated.
Even the great prophets often sought to save their own skins. Moses, Gideon, Saul, Jonah and Jeremiah are just some examples of great men of God who were reluctant to step out for God. Consider Moses' reluctance in accepting God's mission for him to return to Egypt and demand the release of the Israelites:
Exodus 3:11
And Moses said unto God, Who am I, that I should go unto Pharaoh, and that I should bring forth the children of Israel out of Egypt?
Exodus 4:1
And Moses answered and said, But, behold, they will not believe me, nor hearken unto my voice: for they will say, The Lord hath not appeared unto thee.
Exodus 4:10
And Moses said unto the Lord, O my Lord, I am not eloquent, neither heretofore, nor since thou hast spoken unto thy servant: but I am slow of speech, and of a slow tongue.
Exodus 4:13
And he said, O my Lord, send, I pray thee, by the hand of him whom thou wilt send.
NKJV
But he said, "O my Lord, please send by the hand of whomever else You may send."
Here we see Moses—considered to be one of the greatest men of God of all time—arguing with the Infinite Creator of the Universe, desperately hoping to place his will before the Father's. The same Moses who later leads the children of Israel out of Egypt and parts the Red Sea is nervously trying to talk his way out of his God-given mission.
In contrast, we have Jesus' example. In self-less, self-sacrifice, He died to self and took on the will of the Father.
John 5:30
30 I can of mine own self do nothing: as I hear, I judge: and my judgment is just; because I seek not mine own will, but the will of the Father which hath sent me.
Called to Be Light
For me, this Common Ground mission pulls me out of self. It's not always comfortable to hand out tracts and receive rejection after rejection. Self-confidence—if that's what we're running upon—takes a hit after so much rejection, but love and obedience perseveres.
Fortunately, we don't rely upon our own self-confidence. We seek to die to self, move in the Spirit and be of Kingdom service. The mission is larger than the self.
Matthew 5:15 / Luke 8:16 / Luke 11:33
15 Neither do men light a candle, and put it under a bushel, but on a candlestick; and it giveth light unto all that are in the house.
Our challenge is not only for a few nights here at Common Ground. Our mission field is in the living rooms, in the offices, on our social media channels.
When circumstances and people become uncomfortable, do we shrink away in self-preservation and self-consciousness?
Or do we die to self and stand upon the rock in the storm, in love and patience and confidence—confidence not in ourselves and our own abilities, but in our Lord?
Even at the end of the night, when we may be wondering if our time invested will bear any fruit in the people we've touched, we must put aside any notions of self-worth and leave the expansion of our efforts to the Holy Spirit.
Don't Expect to Be Enough
1 Corinthians 4:10-14
10 We are fools for Christ's sake, but ye are wise in Christ; we are weak, but ye are strong; ye are honourable, but we are despised.
11 Even unto this present hour we both hunger, and thirst, and are naked, and are buffeted, and have no certain dwellingplace;
12 And labour, working with our own hands: being reviled, we bless; being persecuted, we suffer it:
13 Being defamed, we intreat: we are made as the filth of the world, and are the offscouring of all things unto this day.
14 I write not these things to shame you, but as my beloved sons I warn you.
Paul's words to the prideful church of Corinth act as a reminder. Even to say we are not good enough, strong enough, smart enough, not old enough, not young enough, not eloquent enough; these things are still pride. Self-consciousness. Self-focus. Self-loathing. Self-preservation. Through it all, our attention is to remain on Him.
Our Prayer
Father, we humble ourselves as servants and we step forward in love and faith and belief to minister to God's children, believers and non-believers alike, under the guidance and strength of the Holy Spirit. Father, we recognize if we're fearful and focused upon ourselves or our circumstances, we've taken our eyes off you and placed them upon the storm, and—like Peter—we'll begin to sink into dark waters. So, Holy Spirit, walk with us as we commit to keeping our eyes upon you. We want only you.
I pray this, in the holy name of our Lord and Savior, Jesus Christ.