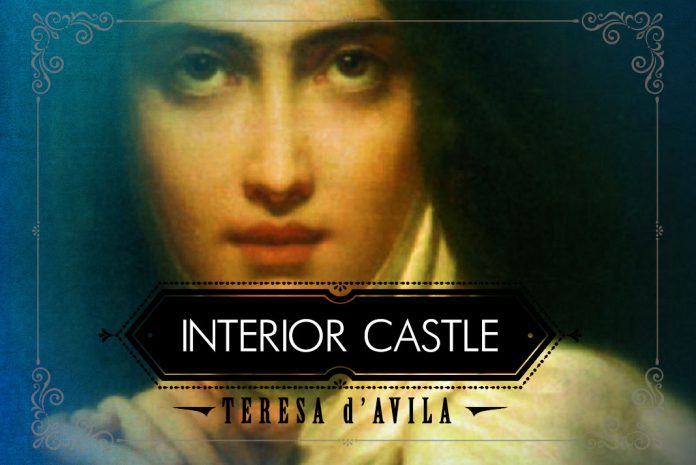 Saint Teresa of Ávila was born on March 28, 1515, as Teresa Sánchez de Cepeda y Ahumada. During her time as a Carmelite nun, she became revered as a Spanish mystic and a theologian of contemplative life through mental prayer. 40 years following her death on October 4, 1582, she was canonized as a saint by the Roman Catholic church.
As the author of the Interior Castle, Teresa portrays the spiritual development of the human soul and its response to God as being like a great castle, wherein lies seven rows of mansions. With each graduation, the soul moves from the outer mansions to the inner mansions, ever moving into closer union with God.
The first three mansions are considered to be stages of active prayer and asceticism.
First mansions – Though they are entering a state of grace, the souls are surrounded by sin and only starting to seek God's grace through humility.
Second mansions – The soul seeks a deeper relationship with the Father through daily thoughts of God and daily prayer.
Third mansions – Here, love for God is growing so great that the soul develops an aversion to sin and a deepening desire to love and serve others.
The fourth through seventh mansions are considered to be mystical or contemplative prayer.
Fourth mansions – God begins to increase His role in the supernatural development of the soul.
Fifth mansions – God deepens union with the soul, preparing it to receive the gifts of the Spirit.
Sixth mansions – The soul spends increasing amounts of time torn between favors from God and from outside afflictions.
Seventh mansions – The soul achieves clarity in prayer and a spiritual marriage with God.
From Wikipedia:
"Teresa candidly reveals this interior journey as being inseparable from her love for Christ and that the highest mansions can only be gained by being in a state of grace through the Church sacraments, fervent devotion of the soul's will to Him, and humbly receiving a love so great it is beyond human capability or description. Through prayer and meditation the soul is placed in a quiet state to receive God's gifts (she calls "consolations") of contemplation, and Teresa notes that man's efforts cannot achieve this if it is not His divine will."
---
References
Teresa of Ávila. Wikipedia.org. Retrieved from https://en.wikipedia.org/wiki/Teresa_of_%C3%81vila.
The Interior Castle. Wikipedia.org. Retrieved from https://en.wikipedia.org/wiki/The_Interior_Castle.