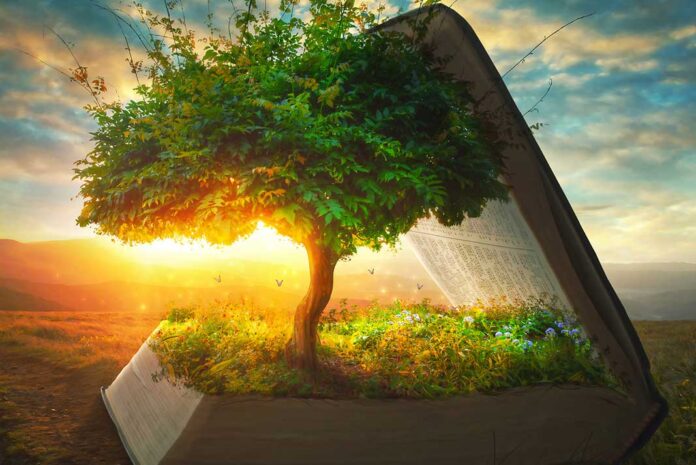 Along the road to spiritual maturity, there are a number of landmarks a believer must pass through so "that you may be filled up to all the fullness of God" (Ephesians 3:20). One of those is the ability to hear the voice of God in the details of life. Another is the recognition of the sovereignty of God, that God is in charge even when things don't go well and it is ok; trust in God means to trust all of the time. Mature believers must also develop the ability to discern good and evil. In the midst of a world influenced by Satan and his demons, it is critical that believers recognize the intense warfare by the enemy to deceive.
The Greek word translated to discern is diakrisis and it means to distinguish, or to judge; it does not mean to determine for oneself that which is good or evil. Adam and Eve were challenged in this way in the Garden of Eden that "from the tree of the knowledge of good and evil you shall not eat, for in the day that you eat from it you will surely die" (Genesis 2:17). By deceiving Eve to eat of that tree, the serpent promised them that "your eyes will be opened, and you will be like God, knowing good and evil" (Genesis 3:5). Since God never intended that man would decide for himself what is good and evil, He had to excommunicate Adam and Eve from the Garden so as not to allow their sin to be immortalized. In verse 22, "Then the Lord God said, "Behold, the man has become like one of Us, knowing good and evil; and now, he might stretch out his hand, and take also from the tree of life, and eat, and live forever". His provision would come 4,000 years later on Calvary.
Solomon's Gift
In 1 Kings 3, Solomon had recently become king and he asked God to "give Your servant an understanding heart to judge Your people to discern between good and evil. For who is able to judge this great people of Yours?" He understood that if he was going to be a successful leader, he needed this ability and he didn't have it. God blessed Solomon with a wise and discerning heart, and also with both riches and honor. As a result, Solomon became world renowned for his wisdom and his wealth, God's personal gifts to Solomon.
Trained in Righteousness
In the New Testament age, believers have access to this gift to discern good and evil. The writer of Hebrews gives us insight into the importance and the process of discerning good and evil. In Hebrews 5:11-12, he recognizes Hebrew Christians as having become dull of hearing, "For though by this time you ought to be teachers, you have need again for someone to teach you the elementary principles of the oracles of God, and you have come to need milk and not solid food". Growing in discernment of good and evil is directly related to a growing capacity for the Word of God and in particular, God's righteousness. These Christians were not accustomed to and inexperienced in the word of righteousness, that is, the goal of living in God's righteousness (verse 13); they were still infants.
The key to the whole thing is found in verse 14, "But solid food is for the mature, who because of practice have their senses trained to discern good and evil", who have the ability to make appropriate moral choices. Kenneth Wuest translates the verse this way: "But solid food belongs to those who are [spiritually] mature, to those who on account of long usage have their powers of perception exercised to the point where they are able to discriminate between both that which is good in character and that which is evil."
Exercised Faith
This Greek word for exercised is a metaphor taken from the athlete or contenders in the Grecian games, who were wont to employ all their powers, skill, and agility in mock fights, running, wrestling, etc., that they might be the better prepared for the actual contests when they took place. It speaks to the fact that the application of God's Word is a participation sport and requires a full commitment to the excellence God has called us to. It represents not just traditional religious activity, but may also encompass simple things like how we speak to someone in the grocery check-out lane. In Romans 1:17, "For in it [the gospel] the righteousness of God is revealed from faith to faith; as it is written, "BUT THE RIGHTEOUS man SHALL LIVE BY FAITH." Living in God's righteousness is a moment-by-moment event and revealed from faith to faith.
Pressed into Spiritual Maturity
Hebrews 6:1 continues the process in this way, "Therefore leaving the elementary teaching about the Christ, let us press on [be carried forward] to maturity, not laying again a foundation of repentance from dead works and of faith toward God".  This verb is a present passive subjunctive and could be better translated "let us be carried" and gives the thought of personal surrender to an active influence. It means that God is moving forward those who are committed to the process of maturity. This is the wonder of the spiritual life. God provides the energy, we accept the process.
"Do not be overcome by evil, but overcome evil with good" (Romans 12:21). Discerning good and evil allows the believer to recognize the warfare and therefore to be able to overcome evil with good.