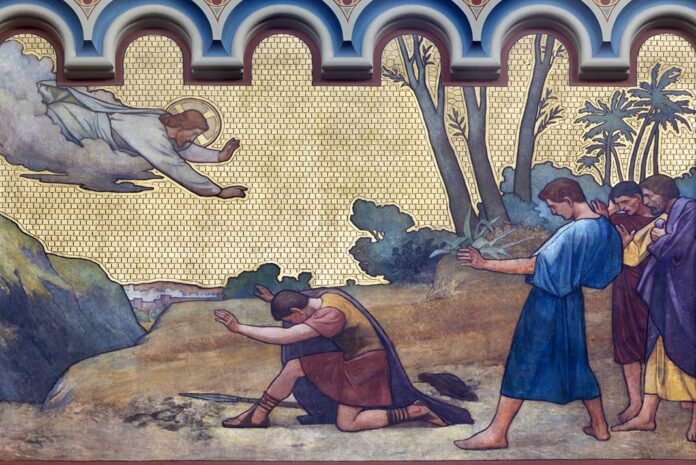 Jesus came to us 2,000 years ago to introduce a new covenant, one that would solve the deficiency that the Law of Moses did not address. I'm referring to the reliance on man to keep the Law. A good case study dealing with the transition from the old covenant to the new covenant is the process of Saul of Tarsus becoming the Apostle Paul. Looking at his life before and after his day of salvation through his own writings enlightens us in the conversion he faced.
Saul of Tarsus was brought up the son of a Pharisee and followed in his father's footsteps, moving to Jerusalem as a young teenager to study the Law under Gamaliel. As a committed Jew, he grew up to be an esteemed Pharisee and was a leader against the Christian movement taking place after Pentecost. In fact, he was on his way to Damascus to arrest Christians for trial, "still breathing threats and murder against the disciples of the Lord". It was with this mindset that Jesus visited him, blinding him, knocking him off his horse, and speaking with him directly. When Saul understood that he was facing the Lord and His name was Jesus of Nazareth, it became the most profound moment of his life.
Jesus told him that God was "rescuing you from the Jewish people and from the Gentiles, to whom I am sending you, to open their eyes so that they may turn from darkness to light and from the dominion of Satan to God, that they may receive forgiveness of sins and an inheritance" (Acts 26:17-18). And in Acts 22:14-15, "The God of our fathers has appointed you to know His will and to see the Righteous One and to hear an utterance from His mouth. For you will be a witness for Him to all men of what you have seen and heard." It would be this personal experience with the Risen Lord that would strengthen him to be willing to suffer for this divine purpose.
Galatians 1:11-17
11 For I would have you know, brethren, that the gospel which was preached by me is not according to man. 12 For I neither received it from man, nor was I taught it, but I received it through a revelation of Jesus Christ. 13 For you have heard of my former manner of life in Judaism, how I used to persecute the church of God beyond measure and tried to destroy it; 14 and I was advancing in Judaism beyond many of my contemporaries among my countrymen, being more extremely zealous for my ancestral traditions. 15 But when God, who had set me apart even from my mother's womb and called me through His grace, was pleased 16 to reveal His Son in me so that I might preach Him among the Gentiles, I did not immediately consult with flesh and blood, 17 nor did I go up to Jerusalem to those who were apostles before me; but I went away to Arabia, and returned once more to Damascus.
In this passage, Paul is giving us insight into the transformation that needed to take place in Saul of Tarsus. The importance of his "revelation of Jesus Christ" cannot be understated; it was the signature moment of Paul's ministry. In 1 Corinthians 15:6-8, he tells us that at least 500 others saw the Risen Christ, including James, the half-brother of Jesus. In verses 9-10, Paul was humbled by the experience, testifying that he was "not fit to be called an apostle" and then acknowledged that his ability to fulfill his ministry was only because of God's grace, namely His favor and empowerment. It was this reality that enabled him to devote himself completely to the divine task.
The Torah and the Temple
Paul identifies the impartation of God's life in him as necessary to His ministry to the Gentiles. Saul of Tarsus was a scholar of the Law of Moses, so he needed to understand this new life in the context of the Old Testament. The Jewish concept of religious life revolved around two foundations, the Torah and the temple. The Torah or Law of Moses established the ground rules for worship while the temple served as the center of religious and social life within the Jewish family. So that these pillars would become negotiable, God was making Himself real in Paul's life like few Old Testament leaders would experience. The fact that the gospel is not according to man (Galatians 1:11) is fulfilled through the new relationship with God, that believers are the temple and the Torah is fulfilled in the life of Jesus Christ received by faith.
Paul testified throughout his letters and ministry that Christianity was not a new religious system with seismic differences from Judaism, but rather its completion. This is evidenced by the fact that he never denied his Jewish faith, but embraced it as a critical part of his new-found spiritual life. He writes in Ephesians 2:20 that Christianity is built on the foundation of the apostles (New Testament) and prophets (Old Testament).
Ultimately, Paul instructed his Jewish heritage that "For I testify about them that they have a zeal for God, but not in accordance with knowledge. For not knowing about God's righteousness and seeking to establish their own, they did not subject themselves to the righteousness of God. For Christ is the end of the law for righteousness to everyone who believes" (Romans 10:2-4). When the believer connects with God on the basis of faith in Jesus as Messiah, he receives and becomes subject to His righteousness. This is the end (completion) of the law! In verse 10, "for with the heart a person believes, resulting in righteousness, and with the mouth he confesses, resulting in salvation." When the heart is truly engaged in faith, His righteousness is the result.