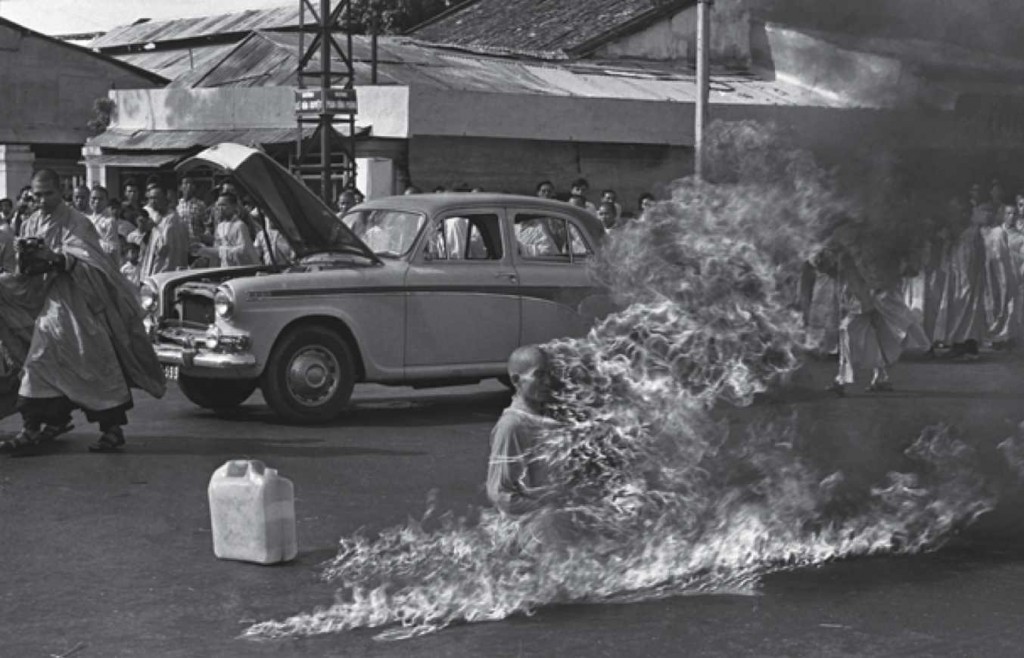 On June 11, 1963, a Buddhist monk named Thích Quang Duc was among the procession of approximately 350 monks and nuns who surrounded the intersection at Phan Dinh Phung Boulevard and Le Van Duyet Street, just outside the Cambodian embassy in Saigon, South Vietnam.
"Thích Quang Duc emerged from the car along with two other monks. One placed a cushion on the road while the second opened the trunk and took out a five-gallon gasoline can. As the marchers formed a circle around him, Thích Quang Duc calmly seated himself in the traditional Buddhist meditative lotus position on the cushion. His colleague emptied the contents of the gasoline container over Thích Quang Duc's head. Thích Quang Duc rotated a string of wooden prayer beads and recited the words Nam Mô A Di Dà Phat ("homage to Amitabha Buddha") before striking a match and dropping it on himself. Flames consumed his robes and flesh, and black oily smoke emanated from his burning body.

"The last words of Thích Quang Duc before his self-immolation were documented in a letter he had left:

"'Before closing my eyes and moving towards the vision of the Buddha, I respectfully plead to President Ngô Dình Diem to take a mind of compassion towards the people of the nation and implement religious equality to maintain the strength of the homeland eternally. I call the venerables, reverends, members of the sangha and the lay Buddhists to organise in solidarity to make sacrifices to protect Buddhism.'"

(Thich Quang Duc, http://en.wikipedia.org/wiki/Thich_Quang_Duc, retrieved November 27, 2011.)
Thích Quang Duc—and those who would later follow his example—was protesting the systemic religious persecution of Buddhism by the Roman Catholic government under President Ngô Dình Diem. It is estimated that 70-90% of the Vietnamese population was Buddhist at the time.
The photo of Duc's death—taken by Associated Press journalist, Malcolm Browne—quickly spread around the world. It is said the image of fiery self-immolation sparked a turning point in ending the Vietnam War, in part by piercing the Western world's sleepy awareness regarding the social evils and religious persecution occurring in Vietnam.
Self-immolation by fire had been going on for centuries prior to this. Often, the suicide was seen as a show of great respect, in honor of Gautama Buddha. In the case of Duc, self-sacrifice was used as a public outcry against religious persecution. It is doubtful Thích Quang Duc could have fully foreseen the worldwide impact of his death, though the presence of the media had indeed been encouraged. The day prior to Thích Quang Duc's death, a spokesperson for the Buddhists had informed U.S. correspondents that "something important" would be happening at the intersection the next day.
These suicide protests helped bring awareness to the languishing Vietnam War, making suicide a tool of shock, used to break through human apathy. On its own, Thích Quang Duc's self-immolation—without a worldwide audience—would not have had the same impact. The press was a necessary partner, rendering the act considerably more effective as a result.
In Regard to the Concept of Respect
An environment of religious inequality and disrespect had already been fostered by the Diem regime. Signs of unrest included:
The Buddhist flag had been banned
Aid was being directed toward Roman Catholic villages, neglecting Buddhist villages whom refused to convert
Weapons had been taken from Buddhist soldiers and given to their Roman Catholic counterparts
Military officers converted to Roman Catholicism in order to gain access to promotions
Forced conversions under the threat of violence were becoming more prevalent
Buddhist protests were growing in frequency and size
Government intervention, intended to quell the protests, had already lead to numerous deaths
Vietnam was deep in the throes of conflict and the Buddhist majority railed against the growing atmosphere of intolerance.
In circumstances where respect for a population is extremely low, dissent will spring up, giving rise to civil unrest. The effect of the widespread disrespect by the Diem regime is obvious in this case, but where does the self-immolation of Thích Quang Duc and others fit into the concept of respect?
If suicide is an ultimate sign of self-disrespect (I think it is safe to state setting oneself on fire would not be a sign of physical respect,) what happens if it is used as a tool for ending disrespect against a people? In Thích Quang Duc's own words, his death was a plea for "religious equality."
Regardless of which religious belief systems were involved, I believe what matters is the idea that one group was ostracized by the other. In order to bring greater awareness to the issue of religious disrespect, Thích Quang Duc made his last act a symbol to be captured and promoted to the world.
Could Thích Quang Duc's statement have been made as powerfully any other way?