In other words, if you don't rank, you don't pay.
Yes, we provide backlinking and performance-based SEO services. In a performance-based SEO plan, you tell us what keywords you're interested in ranking for and we help you get there.
For instance, say your website is already fairly well-established with backlinks. A mature link profile for a seasoned website may look like the following:
Referring Domains: 296 (1,351 in the last 5 years)
External Backlinks: 8,286 (26,377 in the last 5 years)
Educational Referring Backlinks: 3
Educational Referring. Domains: 2
Referring IP addresses: 272
Referring Class C subnets: 247
Indexed URLs: 2,012
Backlinks Images: 1,275
Backlinks NoFollow): 2,646
Backlinks Redirects: 20
Backlinks From Frames: 29
Backlinks Deleted: 58
Citation Flow: 30
Trust Flow: 24
What all this means is that you have a strong cornerstone for doing additional SEO work. In this case, but it's not so much the quantity of backlinks you're after, but rather the quality of backlinks (PR2-5+). This is where you will target those key phrases you believe your site can monetize. (If you have a relatively young website, you'll need both quantity and quality links!)
So, you send us a list of key phrases you want to target. Say you want to target the following keywords:
ipad stands
custom trade show exhibit
tension fabric displays
portable counters
We then do some analysis and offer you a quote for what it will take us to rank you for those key phrases. In your keyword analysis, we will also add some additional key phrases you might be interested in. It might look something like this: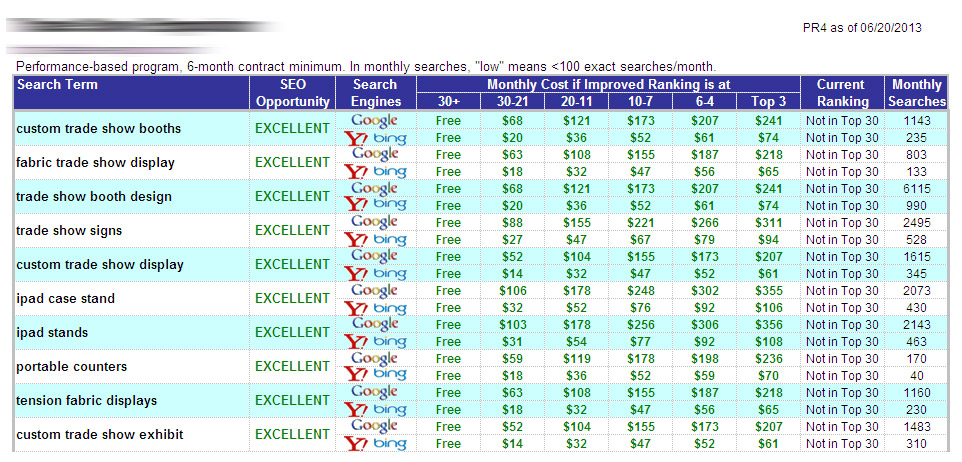 What's nice about our pay-for-performance SEO plan is, if we don't rank you, you don't pay.
What do you mean by "if you don't rank, you don't pay"?
"If you don't rank, you don't pay" means just that. This is a performance-based SEO plan. After an opening contract fee, we work for free until we rank your desired keywords into position 30 or higher.
Obviously–if you've seen our SEO case studies–you know that positions 1-3 are the sweet spots in Google, so the pricing we offer is graduated; the closer you rise to the top, the more you pay. Of course, if you're at the top of the rankings for popular search terms, you're getting more than enough new business to cover your SEO bill!
The Terms for a Performance-Based SEO Plan
Opening Contract Fee
For smaller geo-targeted search terms, the opening contract amount may be less. For instance, if you're looking to dominate a particular search term for your local city, we only ask for a $97 opening contract fee. For statewide search terms; $500. For nationwide or regional search results, we may require $1000 or more, depending on the client's budget, their sense of urgency and the number of key phrases they want to compete for.
This fee is reinvested immediately into your SEO work, so you should be prepared to pay the top amount for any search term you target within a month or two. Therefore, pick your search terms wisely! Aim for high relevance and high traffic!
6-Month Contract to Start
We also require a 6-month contract for our performance-based plan. This protects us from those companies who would seek to just use our services to rank quickly and then disappear. We make a major investment on behalf of each client that comes in, so it takes us a few months to return to being right-side up on performance-based accounts.
Canned SEO Plans
If you seek a more generalized approach to your online marketing, we also have canned SEO plans available. Canned plans are best if you:
want less fluctuation in the billing and if you
want to be able to cancel at any time. (Though very few companies ever cancel. Something about being at the top of the search results and receiving that regular boost to business, we think.)
Canned plans range between $3000 per month to $500 per month, or we can customize a plan to your liking. The lowest we can go is $500 per month for these plans, however.
(We used to offer a $200/mo plan but it took too long for those clients to see results, so we discontinued it.)
INTERESTED? GET A QUOTE..